Well-Aging

Embracing Health and Charm as We Age

Achieving and maintaining both physical and mental well-being enables us to gracefully age and lead a captivating life.
This is made possible by cultivating a daily lifestyle that promotes vitality and balance.
This philosophy forms the essence of Well-Aging.

With our slogan "Extending Healthy Lifespan," we have established a clinic in Minamiaoyama that embraces the principles of Well-Aging.
Our goal is to enhance the quality of life in the era of a 100-year lifespan by providing comprehensive healthcare based on this philosophy.
Reasons to Choose Us

A New Style Preventive Clinic Based on the Principles of Well-Aging
After more than 20 years of dedicated research, we have reached a significant conclusion in the field of anti-aging medicine.
Aging refers to the physical passage of time from birth to the present, which is inevitable for all human beings.
However, aging can be distinguished from the process of getting older, which involves the decline in bodily functions and changes in appearance.
While we cannot prevent aging itself, we can combat the effects of aging.
This is where the science of anti-aging medicine comes into play.
Our clinic is founded on the innovative concept of practicing well-aging based on anti-aging medicine.
We aim to put into practice the principles of well-aging, enabling individuals to achieve healthy longevity.
Furthermore, we strive to promote these principles within society.

About Our Services and Treatments
Our clinic is staffed with board-certified anti-aging specialists and dermatologists who provide precise diagnoses and offer individualized medical care.
Introduction to Well-Aging Outpatient Clinic:
"Special Clinic by Dr. Aoki"
Living Healthy and Energetic
(Health and Longevity Outpatient)
Internal medicine-based anti-aging (geriatrics) is a preventive medicine approach for promoting healthy longevity.
We aim to assess your biological age, as well as identify weaknesses related to aging such as oxidative stress, glycation stress, and immune function.
Based on these findings, we offer tailored well-aging programs to optimize your overall well-being.
Strive for Healthy Weight Loss
(Diet Outpatient)
The causes of weight gain can vary from person to person.
After assessing genetic factors, we diagnose the specific issues related to the four pillars of diet, exercise, metabolism, and autonomic nervous system in your weight loss journey.
Based on that, we create a personalized diet menu for you.
Treating Minor Illnesses and Discomfort
(Petit Disease Outpatient)
Do you have concerns such as chronic fatigue, sleep disorders, abnormal bowel movements (constipation or diarrhea), chronic headaches, coldness, swelling, or skin issues? Despite undergoing various medical examinations covered by health insurance, you may have received a diagnosis of "no abnormalities."
However, you still feel that something is not right.
We will diagnose the underlying causes of these minor ailments and discomforts, even if they are not classified as illnesses.
Achieve Beauty and Youthfulness
(Inner Beauty Outpatient)
Even if you undergo cosmetic treatments to remove blemishes, if your daily lifestyle is not in order, the blemishes can reappear quickly.
We will analyze your lifestyle and provide guidance on well-aging aspects such as diet, exercise, and sleep, along with prescribing the appropriate inner beauty supplements, injections, or infusions.
Discover the Right Supplements for You
(Supplement Outpatient)
"We will address all your concerns regarding supplements, such as 'Is the supplement I'm currently taking really suitable for me?' and 'I want to try supplements, but I'm unsure of what and how to take them.' Our aim is to provide you with answers and guidance on all matters related to supplements."

Online Consultation Services
In recent years, with the spread of the COVID-19 pandemic and the increase in patients refraining from visiting medical institutions or opting for home care, the recognition of online medical consultations has significantly grown.
As part of medical insurance coverage, online consultations are available for lifestyle-related diseases such as diabetes, hypertension, dyslipidemia, and metabolic syndrome.
For self-pay treatments, online consultations are also available for anti-aging medicine, aesthetic dermatology and internal medicine (medical diet, prescription of beauty supplements, etc.), hair loss treatment, and prescription of contraceptive pills, providing a convenient option for patients.
FACILITY
INTRODUCTION
Introduction to Our Facility
We welcome you in a clean and pristine clinic environment with a white-based color scheme.
In our private spaces, you can feel at ease and freely discuss your concerns.
We offer the latest state-of-the-art beauty devices and provide detailed care tailored to your needs.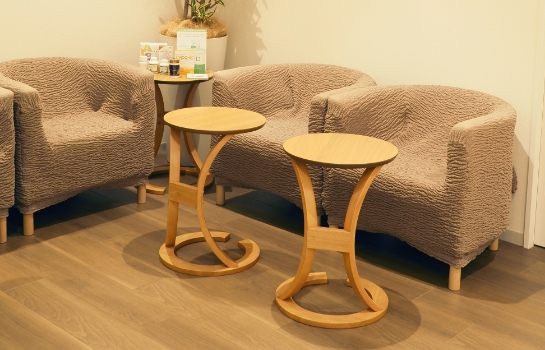 FLOW TO
TREATMENT
Procedure Process
I will take care of your concerns from counseling to post-procedure.
We will explain our concept of beauty and health and ensure that you are satisfied and content with our services throughout the post-procedure period.